December 6, 2013
We made the following improvements to BIM 360 Field:
Made date formats more consistent throughout the product and reports.
Fixed a problem with UI scrolling when printing from the Issues, Tasks, Checklists, and Equipment lists
Fixed a problem with sorting in Checklist reports
Made it so companies added to a project show up properly in your accounts Companies list
Corrected formatting in emailed dashboard reports
Fixed a problem with sorting in Issues reports
November 15, 2013
New home page and navigation design
Thank you for all the helpful feedback on our home page beta. We've now extended this design to the rest of the product.
We're introducing a clean new look and feel, consistent with other BIM 360 products like BIM 360 Glue. We've streamlined our main controls so the dashboards have more space. And modern web technologies make the layout look great on a variety of screen sizes and devices.
All of the great features you're used to will be there (but they might be in a different spot).
Notably:
Setup and Sign Out are in the menu under your user name
Reports and Library have moved to the navigation bar on the left side of the screen
View Issues and Issues pages are combined under a single Issues button
Here's what we've added in this update:
Improved Project Overview and Dashboard appearance
Dashboard setup and sharing controls
Home page Messages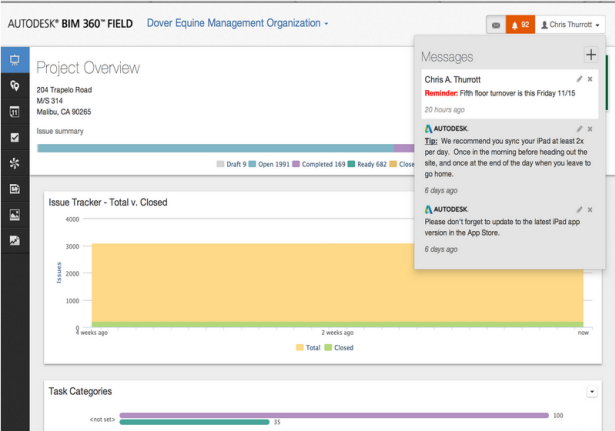 Dashboard sorting
The Average Issue Response Time and Unresolved Issues dashboards now allow you to sort your results, so you can show the 5 longest times or the 5 shortest.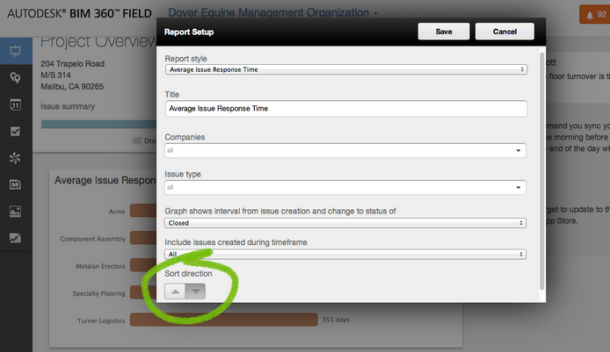 Other BIM 360™ Field for Web improvements
Custom Fields are now called Custom Properties for better consistency with BIM 360 Glue and other Autodesk products. Similarly, Standard Fields are now called Standard Properties.
You can now update Company information through our API.
October 30, 2013
Sneak preview of our new home page
We're excited to show you a preview of our new home page design!
You can start using it now by clicking the "Try our new home page beta" link at the top of the page. Don't worry, you can switch back anytime you want.
We're Introducing a clean new look and feel, consistent with other BIM 360 products like BIM 360 Glue. We've streamlined our main controls so the dashboards have more space. And modern web technologies make the layout look great on a variety of screen sizes and devices.
All of the great features you're used to will be there (but they might be in a different spot).
We're not completely done yet – here's what we're planning next:
Adjust your dashboard settings and schedules
Viewing home page messages posted by administrators
Bringing this streamlined design to other parts of BIM 360 Field for Web.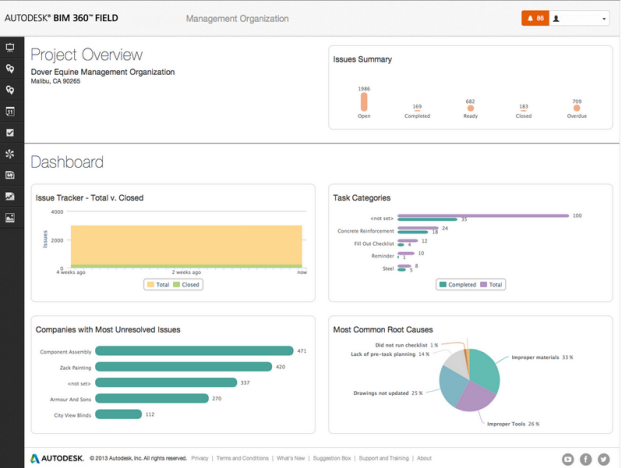 Manage companies for your account
You can now manage companies at account level. Project admins can still add companies to projects, but these will also appear at the account level so they can be centrally managed and re-used across projects (like Users can). Project admins can also import companies from their account's company list. Account admins can manage the company list and also add custom fields to capture additional data about companies. Note: For this first release, we will show all companies on all of your account's projects in the company account list. In future releases we will work towards reducing the number of duplicate entries.
Other BIM 360™ Field for Web improvements
On the Issues List report, you can now choose to break pages when the company and the location changes, so you can create lists for each subcontractor for each room (for example).
Added Barcode and Asset ID columns to the Equipment List by Type report
Made it possible to edit the EIN and DUNS numbers for the company that owns the project (the "account company")
October 9, 2013
Improved date filtering on Issue Detail and Issue List reports
You can now choose which issue date you want to filter on (instead of just filtering on date created). This lets you create reports of issues that changed to "Work Completed" (for example) during a given time period.
Other BIM 360™ Field for Web improvements
The Task Visual Location Grid report now displays the task types in the header of each page so you can understand the report contents better if you post it on the wall (for example).
Improvement to assigning tasks created by subcontractors. Tasks created by subcontractors now properly use the assignee designated on the task template instead of assigning to a project administrator.
If you link a barcode to a location using iPad that barcode now appears when editing the location in Setup on the web.
Improved behavior for Issue Numbering setting in Project Setup.
Improved accuracy of relative date searches across different timezones.
Friday September 13, 2013
Task reports improvements
You can now filter all of our Tasks reports by task type:
Task Summary (new)
Task Visual Location Summary (new)
Task Details
Task List
Task Issues
Other BIM 360™ Field for Web improvements
The Keep me signed in checkbox on the sign-in page now works in more cases/browsers.
Improved performance when linking checklist templates to large numbers of equipment items
Fixes for editing multiple items containing apostrophes (') and to History logging when editing multiple items.
Improved behavior when re-importing previously deleted checklist templates.
View Issues grid doesn't have to reload as often.
Scheduled report recipients update properly when you make changes to project members
You can now choose to see additional model-related information such as the model name in the Equipment list (for equipment created via BIM Sync plug-ins).
August 23, 2013
Delete photos
Sometimes you'll take photos on your iPad and accidentally upload some you don't want to the Photos gallery on the web. While you can delete photos you take on your iPad, sometimes unwanted ones can slip through. If this happens, you can now delete your own photos on the web.
Keep in mind that if the photo was attached to an issue, checklist, task, or equipment item that it will also be removed there. This will also remove any markup, so use caution. If in doubt, visit the item's Attachments tab and remove the attachment from there. Deleting the attachment will also remove the photo from the Photos gallery.
Project admins can delete photos from any user.
We've also streamlined the controls a bit, putting the new Delete control into a More Actions menu along with downloading, emailing, and going to the source item (e.g. Go to Issue).
Checklist Conformance Report improvements
This report shows counts of checklists and observations along with conformance percentage and an optional bar graph. We've added additional grouping controls and made this report available to all users. In addition to grouping by business unit, you can now group by project and by checklist template.
This new, more flexible version of the report replaces some older reports that will now be retired:
Checklist Observation Summary by Project
Checklist Section Breakdown
Checklist Section Detail
If you had saved or scheduled reports for those three templates they will be migrated to a checklist conformance report with the appropriate settings.
Streamlined controls on View Issues, Checklists, Equipment, and Tasks
We've reorganized the controls on our list pages for greater consistency and to get less frequently used items out of your way. Adding, editing, removing, and printing items from the list are on the surface, with other controls in a More Actions menu.
Other BIM 360™ Field for Web improvements
Reports only include data from projects that have "include in reports" setting turned on
Improved behavior when saving equipment items
Improved checklist import for files containing special characters
Account admins can now export lists of users from their account info page.
New Zealand Dollars now available in currency list
August 7, 2013
Dashboard report email improvements
We've added controls so you can customize the subject and message for your emailed dashboard reports. We've also improved styling of the dashboard emails themselves.
Group Issue List report by Issue Type
You can now group your Issue List reports by Issue Type, so you can break down your issues by source or type of work.
Improved Sketch for modern browsers
When sketching on attachments in BIM 360 Field for Web, we now support the same sketch tools as seen on iPad and in Pushpins view. The sketch window is also larger, allowing you more room to work.
The improved Sketch is available in Internet Explorer 9 and 10, Firefox, Google Chrome, and other modern browsers. Internet Explorer version 8 does not support the necessary web standards so it will continue to use the older sketch tools.
Other BIM 360™ Field for Web improvements
Improved Mapped Sets count behavior in Models tab
For account admins working with the Users list, we remember your last search criteria after editing a user and returning to the list.
Improved terminology consistency in Setup – form action buttons are labeled Save and Cancel as they are elsewhere in the UI.
You can now choose to place pushpin images all at end of the report when running an Issue List by Company report.
July 19, 2013
Barcodes / QR codes for Locations
You can now import barcodes or QR codes associated with your Locations in Setup. Then, when you scan that code on BIM 360 Field for iPad we will show you the list of issues for that location. You can also manually add barcodes by editing locations under Setup.
Manage scheduled Dashboards
You can now see your scheduled dashboard reports in Reports so you can manage them centrally. Click Reports, then Scheduled to see your scheduled dashboards in the list.
BIM Sync plugin support for Navisworks 2014
We've updated our BIM Sync plugins to support Navisworks 2014 files. Go to Setup > Equipment > Models and click the Download BIM 360 Field Plugin link to install the updated plugins. To view Navisworks 2014 models on your iPad, update to version 4.1.3 of BIM 360 Field for iPad, available soon in the App Store.
Show issue image attachments on Checklist Details report
You can now see issue image attachments along with the images you've attached directly to checklist items on the Checklist Details report. The issue image attachments will be labeled with the Issue ID and appear with other attachments to the checklist items.
To see the issue image attachments, choose to show attachments with the Show attachments control and also check the Include issue details checkbox.
Other BIM 360™ Field for Web improvements
Improvements to Reports page for subcontractor users
Improved user switching behavior after changes to user, project, or account in Setup
Prevent duplicate issue ID's when using Issue Templates with pushpins
Enable setting the Auto-create Issue value when importing checklist templates
Improved filtering on the Users page in Setup
Improved counting of users in per-user accounts – we now properly exclude subcontractors from the total
Improved date formatting on reports, and we display month names in your local language
Improved sorting for report recipients control – now alphabetically by company and then by user name
We now display the sort order value on report cover pages
We now audit who added or removed a signature in the History tab
When searching for Users in Setup, we remember your search criteria when you return to the user list from the user edit form.
July 8, 2013
Checklist Conformance Report
This new report (for account administrators only) shows counts of checklists, observations, and conformance percentage grouped by business unit and checklist template. You can optionally show project and/or checklist item details. An optional bar graph can show the 10 groups with lowest conformance.
Checklist Details Report Improvements
We've made a couple of improvements to make this report even more useful. First, you can now filter the report output by the date the checklist was created or by the date the checklist was updated/modified. Second, if you have issues associated with your checklist items, image attachments on to those issues will display on the report along with the image attachments to the checklist itself if you choose to show attachments.
Other BIM 360™ Field for Web improvements
If you mark up on an attachment that is a multi-page PDF, you can down download all the pages of that PDF with the markup. Click the Download button in the Attachments list.
Visual improvements to the Models tab in Equipment Setup
Improvements to report descriptions
When importing Tasks and specifying a task template, we will attach any checklist templates associated with that task template to the imported task
We now sort recipients alphabetically by name (grouped by company) in the reports "send to" controls
Improved behavior of the Documents/Locations control in the Library
We now allow users who are not associated with a project to sign in (so an account admin can see Setup, for example)

We now allow you to delete equipment types when equipment of that type was deleted
June 7, 2013
Improved Reports browsing
We've de-cluttered the Reports browser area, making it easier to browse and providing bigger previews so you can find the report you want. Mouse over the previews to see detailed descriptions.
All of your scheduled and saved reports will be preserved and there are no functional changes to the reports themselves (besides other changes described below).
Photos browsing
Users (except subcontractors) can now view photos they take or photos they add to issues, checklists, equipment, and tasks. An individual user can only see the photos he or she took or added.
Project admins can still give a user access to ALL project photos by checking the Photo Viewer box when editing a user on the Project Info page under Setup.
Now in the App Store: BIM 360 Field for iPad 4.1 allows you to quickly take a series of photos and sync them up to BIM 360 Field for Web.
Set time intervals on Issue Trend reports
We now let you set what time interval to report on in the Issue Trend reports. The graph will always show you the trend over the full date range, but you can choose to show counts in the table by day, by week, by month, or by quarter.
Previously scheduled and saved reports will be unaffected, we will set the interval to "by week" since that is what the table always showed in previous releases.
Other BIM 360™ Field for Web improvements
When sketching in the BIM 360 Field Viewer, rapid switching to other attachments via the drop-down menu may be disabled if there are an excessive number of attachments. To view other attachments, return to the list of attachments and and select another attachment to view.
Task Summary reports – you can now group by Location or Responsible Company instead of running separate reports. Any saved or scheduled reports will be migrated to the new report with the correct settings.
Account admins can now see when a user last synced, in addition to seeing their last web login
On the History tab, you can now see user full name and company in addition to email address on each entry
Improved behavior when editing location links in the Library
Improvements to searching and customizing in Task Templates
Improved document download behavior for IE 8
We now prevent you from putting too many characters into the multi-select response fields in checklist setup.
Improved Dashboard refresh behavior
We now include Draft, In Dispute, and Unresolved counts in all Issue Status Summary reports
May 29, 2013
BIM 360 Field for iPad version 4.1
Available now in the App Store, Version 4.1 brings our Photos feature to BIM 360 Field for iPad:
Quickly take a series of photos for recording progress or documenting issues, checklists, etc.
Review photos taken on iPad and easily delete the ones you don't want to keep
View photos taken on iPad and also see photos from Issues, Checklists, Equipment, or Tasks synced to your iPad
Search your photos and sort them by Date, Author, Location, or Type of item they're attached to
Add a new issue with multiple photos at once
After you sync to BIM 360 Field for Web, users with Photo Viewer permission can browse photos under the Photos button and share them with other account users.
Version 4.1 also includes these other great features:
Improved Attachments workflow. You can now add multiple photos or library documents to an Issue, Checklist, Equipment, or Task in a single action.
Better networking and sync performance
May 24, 2013
Improved linking of files to locations in Library
We now allow you to link a file to multiple locations at once in the Library. Click the file, then click the Edit Location Links button.
You can filter the list of locations and check files to link (and uncheck to remove the link). For documents with multiple versions, we link the most recent version.
Note:
If a location has pushpin issues or markup associated with it we show a lock icon. You cannot unlink that location until you remove the pins or markup from that location.
Consolidated Issue Status Summary and Checklist Summary reports
We're continuing to combine reports and provide more grouping and sorting options. In this release, we've introduced two new reports that combine a number of formerly separate reports:
Issue Status Summary replaces the former Issue Status Summary by Company, by Company and Location, by Location, and by Location and Company reports
Checklist Summary replaces the former Checklist Summary by Author, by Project, and by Template reports

Any scheduled or saved reports you previously created will be migrated to the new combined reports.
Other BIM 360™ Field for Web improvements
We've improved our notification emails for Tasks and Issues. We now include the item ID in the subject line where possible and streamlined the email text so you can find important information more easily.
You can now print multiple tasks at once, in List or Details format, from the Tasks list.
Comments and Signatures have been moved above Attachments in the Issue Details and Task Details reports so they are easier to find.
Account administrators can now see the projects list for all users associated with projects on their account.
May 10, 2013
Consolidated Issue List, List by Location, and List by Company reports
We're continuing to combine reports and provide more grouping and sorting options. In this release, we've combined the former Issue List, Issue List by Location, and Issue List by Company reports into one new Issue List report. This new report lets you group by location, group by company, and provides additional sorting options.
Any scheduled or saved reports you previously created will be migrated to the new combined report.
Improved setup for Standard Fields on Checklists and Tasks
We've made usability improvements to standard fields setup for Checklists and Tasks. We've separated them into a new Standard Fields tab, and now list all available fields so you can more easily hide and show them on the form. Check the "Visible" checkbox to make a field visible and uncheck it to hide the field.
Certain fields are required by the system and cannot be hidden, those are indicated with a "lock" icon.
Account administration improvements
For account administrators, we've added some more improvements to the ones we released last month.
You can see the projects (on your account) that a user on your account is a member of. Go to Users under Account and click the user in the list. Then click Edit to see the project list on the user's info page (as shown below).
You can now export the user list to an Excel file for offline use. Go to Users under Account, then click Export to generate and download the Excel file.
Other BIM 360™ Field for Web improvements
Added a way to default date fields (issue due date, task scheduled at, and custom date fields) to blank in Setup. If you leave the date field blank, it will remain blank until a user fills it in. Otherwise, the default date users see will correspond to the number you enter in the field (0 for today, 1 for tomorrow, etc.).
Improved performance of the Beta customizable reports (Issue List by Location and Equipment List by Type). We also applied recent layout improvements to both reports.
We no longer show photos from Voided issues in the photo browser.
Clarified language when editing multiple items. If a field's value is different across the selected items, we now show <multiple values> instead of <MULTI>. If you change the value of this field, all your selected items will get the new value. Otherwise they will keep their old value.
Improved item selection behavior on Issues page.
Improved importing behavior for Tasks "scheduled at" date.
Improved sorting behavior in filtering controls.
Improved behavior when filtering locations that contain commas.
Improved behavior of "include sublocations" control on Reports. The control now shows only the locations you picked (instead of adding all sublocations to the control) but still includes all sublocations in the report output.
We now properly create links to checklist templates when the equipment was created on Field for iPad
The default zoom behavior for pushpin documents is now to show the full page rather than zoomed in to the top-left corner. Once you set a print area we will retain the behavior of zooming to the print area. This change will also affect pushpins and sketch on Field for iPad.