December 19, 2014
Daily Updates Access
Project admins can now control which roles (Contractor, Architect, etc.) have access to Daily Updates, similar to our other features. You can control this setting in Project Setup. Click Setup > Project Info > Permissions.
As before, each user can only see his/her daily updates but can share updates using the Print Daily Update feature. We do not support Daily Updates access for the Subcontractor role at this time.
November 21, 2014
Daily Updates
With Daily Updates you can report on what's going on with the project each day. Project members can add and view their own updates, and share printable reports with the project team. Here are the key details:
Weather. Automatically populate weather for your job site, and adjust for local conditions. Add notes on how weather affects progress.
Labor. Quickly enter number of workers and hours worked for each company on site. Describe work performed by each company. Easily reuse entries from the previous day.
General Notes. Summarize other job site activities. Add photos to show what happened in the field. Record deliveries, incidents, and more.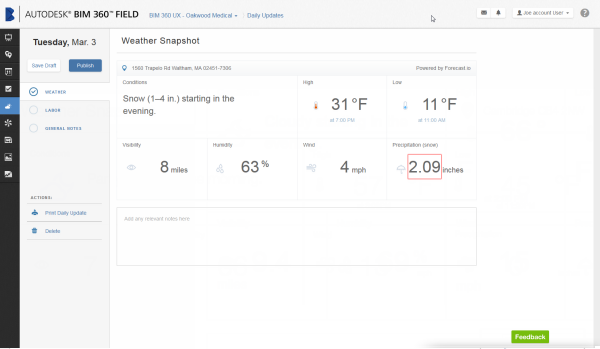 October 15, 2014
Library Preview improvements
We're continuing to improve our next-generation Library and add new functions (but we're not done yet!). Here are the latest additions:
Folder view. In addition to the "flat" view that shows all of your files together, you can switch to a folder view to see your files organized into folders. Navigate through your folders by double-clicking.
Add new folders. When you're in folder view, document managers can click Add folder to create a new folder inside your current folder.
Move folders. Document managers can also move folders so that you can reorganize without having to reupload.
Upload folders. You can now launch the BIM 360 File Importer from Library Preview, so that you can upload folders and subfolders – same as in the old Library.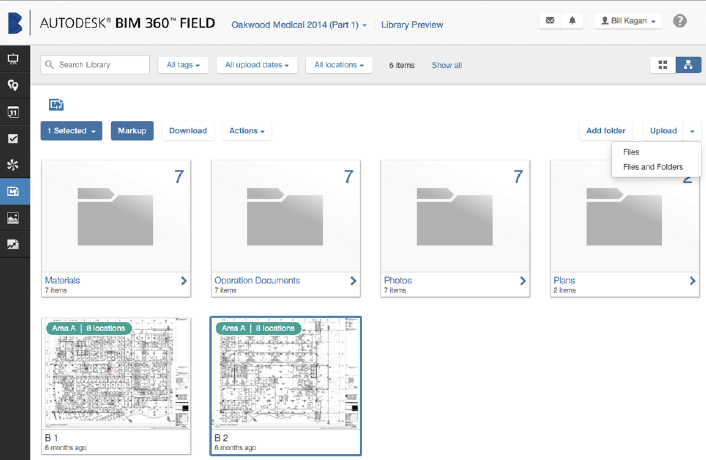 Markup improvements
In the Library Preview, we're continuing to add improvements and features to the markup experience:
We've streamlined the markup controls and given them a new, darker appearance so you can better focus on your document.
You can now see your document tags and edit them using the same controls as in Library Preview.
And we've added a linking control so you can navigate between your documents using hyperlinks (more below).
Linking documents
You can now follow links between your Library documents for easy navigation between them. For example, link from a floor plan to a detail view. All users can follow links, and document managers can add new ones.
If your PDF documents already contain links from Acrobat® or Bluebeam®, we will import them for use within BIM 360 Field.
You can also follow hyperlinks on your iPad using BIM 360 Field for iPad version 4.6 or higher.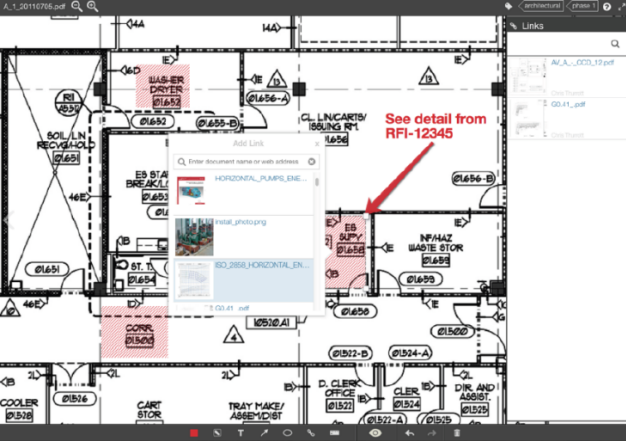 Other improvements
When documents have only one tag, the tag name displays instead of the number of tags.
Improved notifications when processing models from BIM 360 Glue.
September 28, 2014
BIM 360 Field for iPad – Version 4.6
A new version of the BIM 360 Field iPad app is now available on the App Store. This latest version includes the following:
Now you can markup documents directly in the library
Performance improvements when scanning barcodes
Sync performance improvements related to locations and issues
September 6, 2014
Library Preview improvements
We're continuing to improve our next-generation Library and add new functions (but we're not done yet!)
Thanks for all of your feedback so far.
Here's what we've added in this release:
Improved search controls

Moved some common controls (Markup, Download) from the Actions menu to buttons for easy access

Improved thumbnail styling
You can easily switch back to the current Library at any time.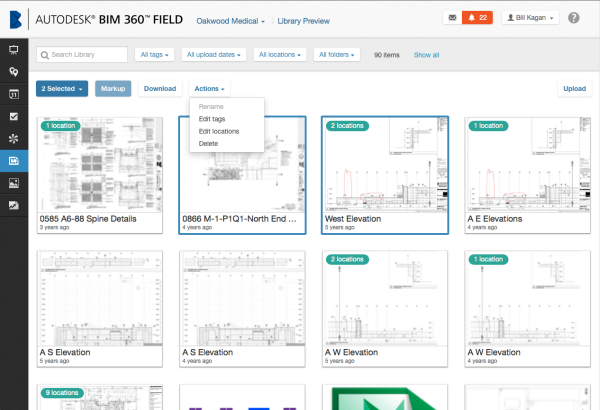 Markup improvements
In the Library Preview, we're continuing to add improvements and features to the markup experience too. You can now hide and show markup using the "eye" icon at lower right so that you can view the original document. You can also view documents full-screen.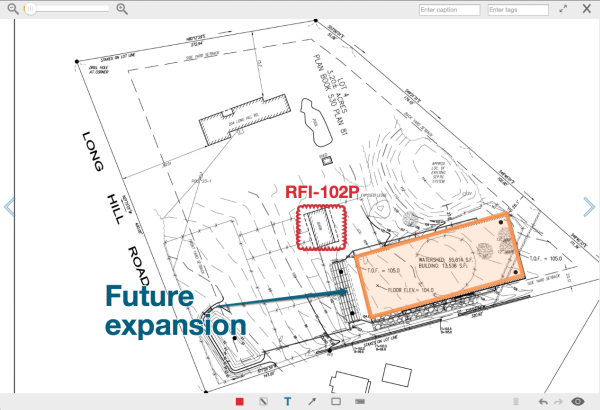 Help and Community Forums
We've added a link to BIM 360 Field Help at the upper right corner of all of our pages. You can find information on how to use BIM 360 Field in Help, see the latest updates in What's New? and share ideas and experiences with other BIM 360 Field users on our
Community
site. There are also links to contact support and view our About box.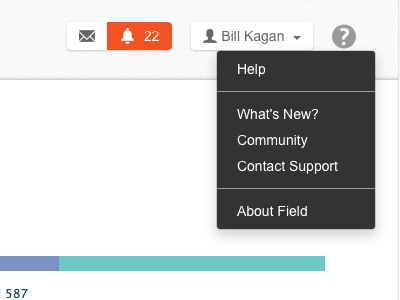 We also made these other improvements
Revised Subcontractor view navigation to be more consistent with other parts of the application
Improved appearance in Setup
Introduced a customer feedback survey you can take by clicking the green "Feedback" button at lower-right corner of the screen. The survey will go away after you complete it.
June 11, 2014
Library Preview improvements
This release includes additional improvements to our next-generation Library and new functions.
Here's what we've added in this release:
Project admins and document managers can rename files.
You can now download many documents at once, along with any markup you've added in the Library.
Improvements to markup usability and loading performance.
You can easily switch back to the current Library at any time.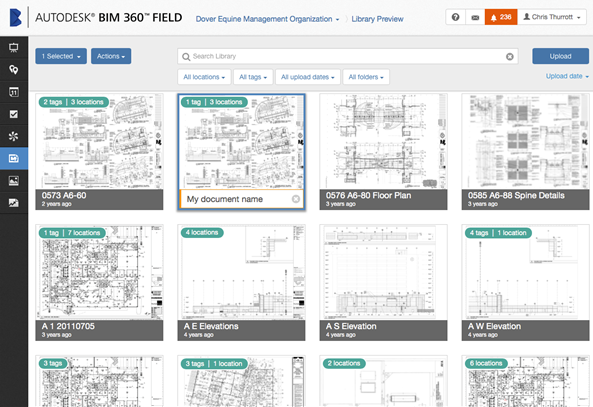 Reports improvements
Issue Counts (by Author) now includes an Author's Company column so that you can better understand which companies are adding issues. You can also group by Author's Company to see totals counts for each company.
Checklist Conformance report now allows you to exclude checklist templates that have not been used.
Issue Tracker dashboard now includes issues that have been marked as work complete (in addition to closed and total issues).
Subcontractors can run reports that include Draft issues if the Can see draft status issues option is enabled by their project administrator.
Images on reports are labeled with the attachment caption if one was entered. If a caption was not entered, we show the filename as it was uploaded or as renamed in the Library Preview.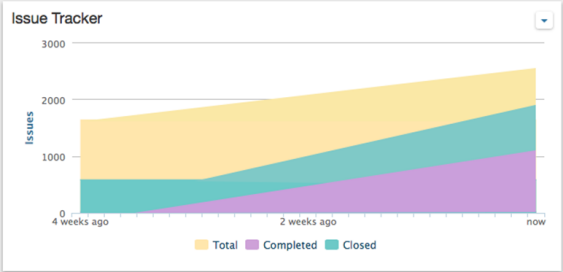 Additional improvements
You can now download all attachments for an issue, task, checklist, or equipment item at once.
Project admins can now add their own values for project type, company category, and company type.
Help for BIM 360 Field will be live as of this release and can be viewed at http://help.autodesk.com/view/BM360F/ENU/. Access from within BIM 360 Field itself is coming in a future release.
May 24, 2014
New Web address for BIM 360 Field – bim360field.autodesk.com
The BIM 360 Field web address (URL) has been changed to bim360field.autodesk.com. As a user, you'll automatically be redirected to the new address.
All of the links generated from BIM 360 Field, such as report e-mails, etc. use the new address. All of your old e-mails and links will continue to work normally too by redirecting.
It is recommended that you change your browser bookmarks to use bim360field.autodesk.com.
Your BIM 360 Field iPad app is not be affected by this change.
May 2, 2014
Reports Improvements
On the Checklist Conformance report, we added the option to include checklist templates that have been added to a project but have not been filled out. This lets you see which templates aren't being used so you can encourage use (or remove unused templates from projects).
We now show the Barcode and Asset ID on Equipment reports so you can more easily tie status and issues to specific equipment items.
New Project Activity report for account administrators shows data about each project in their account including user counts, license dates, enabled features, and usage activity (issues, checklists, equipment, tasks).
Improved appearance for report parameters.
Library Preview Improvements
Browse to the next or previous document without having to return to the thumbnail list
Improved zoom controls
Library users (except for subcontractors) can markup on documents from the Library. Note that this markup will be visible only from the Library.
You can download up to 10 documents at once, along with any markup you've added in the Library.
You can easily switch back to the current Library at any time.
Other improvements include:
Added a Tasks tab to Equipment, so you can work with the Tasks associated with your equipment item (and create new ones)
Our legacy BIM 360 Field plugin now compatible with Navisworks 2015 files
Project admins can choose to hide Issues in Draft status from the subcontractor portal issue list.
Improved legibility for Markup controls (caption and tags fields, Trash icon)
Restored the ability to have multiple custom fields with same name (but we will warn you of duplicates).
"View Library" permission changes to "Library (View + Markup)"
Other reports improvements and fixes
April 4, 2014
BIM 360 Model Integration
BIM 360 Glue and BIM 360 Field administrators can now share models between Glue and Field to facilitate efficient collaboration among the extended project team.
Models in many different formats from Autodesk® and non-Autodesk products, can be shared across BIM 360 Glue and BIM 360 Field projects.
Before the data can be shared, in Glue, a Glue administrator must set up a BIM model for sharing by creating Equipment Sets for groups of model objects that share properties, such as a pipe or duct type.
After the model is shared with Field, a Field Administrator can then open the model in Field, and associate the Equipment Sets data to Equipment Properties in the Field Project. See Managing Equipment Sets.
After the equipment sets and Field properties are mapped, the team in the field can update the model with installation status and commissioning information. Team members using Glue can view equipment properties that have been added to the model in Field.
To get started:
BIM 360 Glue customers should contact their account administrator to enable the ability to share Glue models with Field.
BIM 360 Field customers using model integration with Navisworks or Revit, but who aren't using Glue yet, should contact our support team to see if they're eligible to get BIM 360 Glue.
If you're not using models in your BIM 360 Field projects, contact the BIM 360 sales team to learn more about:
Synchronizing field equipment with coordinated model objects.
Viewing models with BIM 360 Field for iPad
Exporting models enriched with field data for owner handover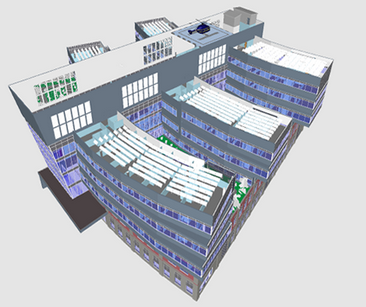 Library Preview
We're excited to share a preview of our new Library experience. You can try these great features now:
Improved browsing with large thumbnails
New search and filtering features
Organize documents by tag, reuse tags added by others
Drag and drop file upload (for document managers only)
You can switch back to the current Library at any time.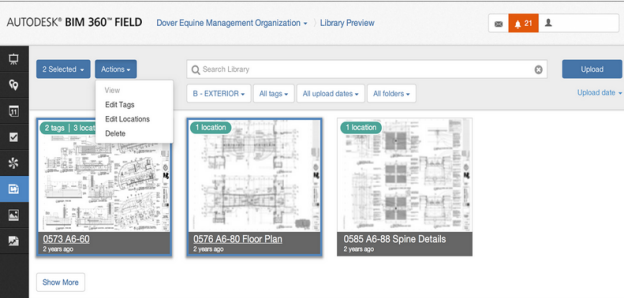 Additional improvements include:
Improved consistency of company logos appearing on reports
Improved issue/equipment grouping in Equipment Issues report
We now prevent email notifications when importing issues in Draft status
Sorting lists by dates now sorts chronologically not alphanumerically
Improved performance when exporting large sets of equipment
Improved support for Chinese characters in reports
Other reports improvements and fixes
March 10, 2014
Recent reports log improvements
Now shows all reports run by you for the last 7 days. Admin users see all reports on the project.
Includes scheduled and saved reports. Scheduled reports are indicated with an icon as shown below.
Click View button to see the report file. If the report had no results, the label "Empty" appears.
Click the envelope button to see a list of users who received the report.
Note:
If you choose to send a report to each company for scheduled Issue reports, you will see one log entry for each company that received the report.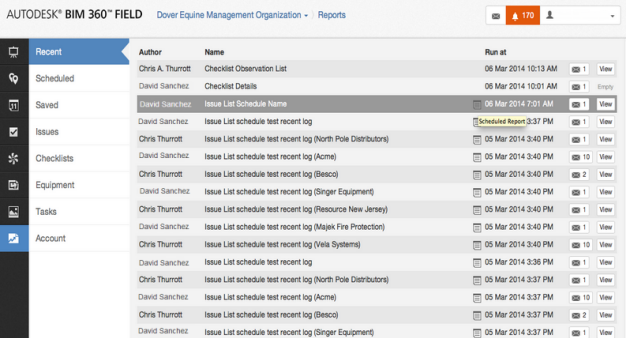 Important for Document Managers
There is a new version of the File Importer utility. In order to upload files to the Library, you must update to the latest version of the File Importer. Click the Import button in the Library to get the latest version.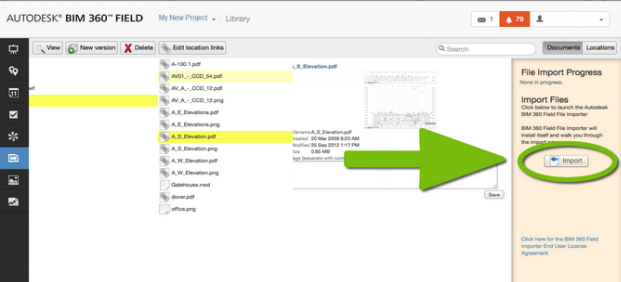 We also made these other improvements:
Improved support for non-US characters and special characters (e.g. "" and "") in Library document names
We now include customized filters when you copy a project in Setup
Improved support for custom fields on Companies
Small reports improvements and fixes
February 19, 2014
New Sketch and Pushpins tools
Improved UI for greater usability and consistency with other BIM 360 products
The text tool (T) can be directly accessed on the toolbar
Pushpins are now more similar in size and shape to the pins in Reports
BIM 360 Field for iPad users will also see these improvements the next time they sync.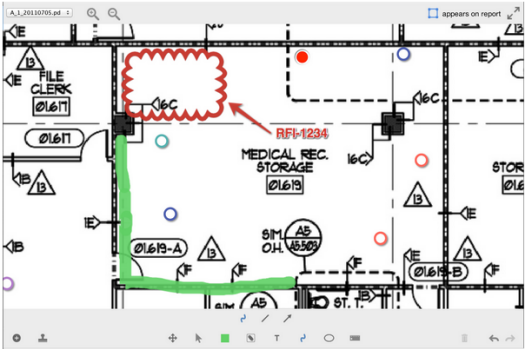 Change history for scheduled and saved reports
You can now see a history of changes to your Scheduled and Saved reports. You will be able to see the before and after values of each change, along with when it happened and who performed the change. Click the History button below the report description to open the History window.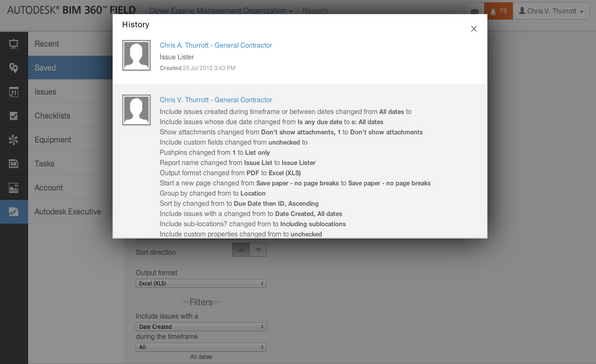 We have also made these other improvements:
Added grouping by Root Cause to Issue Counts report – you can now group by Root Cause or by Author
Improved time zone handling and other fixes for date picker controls
Removed extra images that could appear when choosing "Pins at end of report" on Issues List report

Indexed Library and Photo tags for improved performance. Note: your tags will now be displayed in alphabetical order

Performance improvements
January 28, 2014
We're excited to announce a new version of our iPad app which has big improvements to the PDF viewing experience. It's available in the App Store now. Here are the highlights:
PDF documents open quickly, without having to wait for "optimizing for zoom"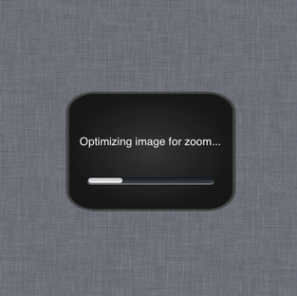 Navigate multi-page PDFs by thumbnail
Swipe to change pages, or tap a thumbnail on the bottom to jump to that page.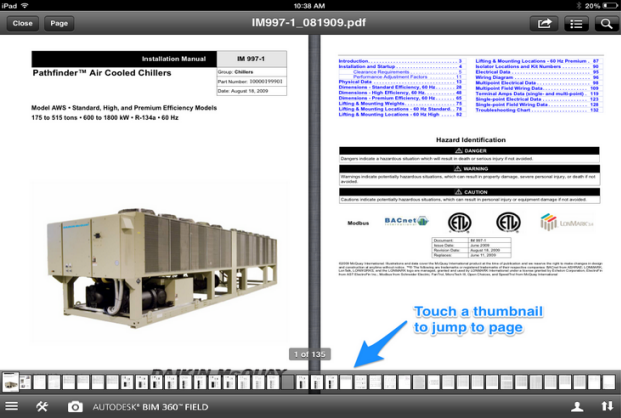 Navigate multi-page PDFs by Table of Contents
If your PDF includes a table of contents, you can use it to find sections quickly.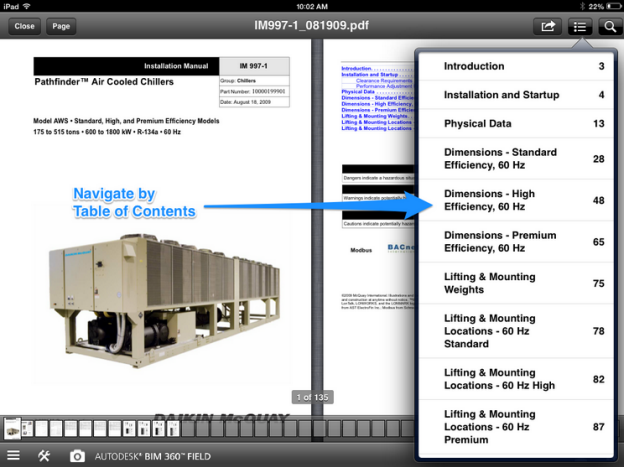 Search for text within PDFs. Type the text you want to find, then tap to go to that page.
Document Upgrade
To use these features, you need to upgrade your Library documents. The first time you sync each project on your iPad, you'll see the following message. Tap the Upgrade button to update your documents. This is a one-time process (per project).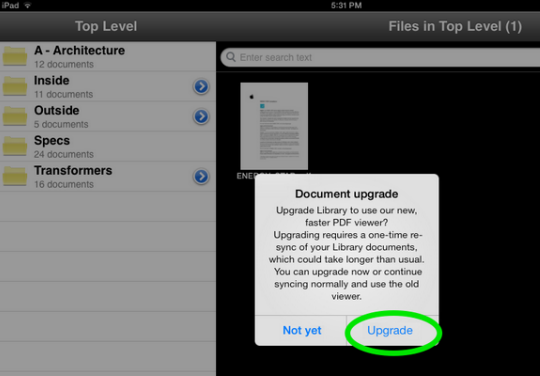 January 10, 2014
We made the following improvements to BIM 360 Field:
Added a feature to share an individual photo with other project users via email
Improved robustness of Project Copy feature in Setup
Improved behavior of opening tasks on the subcontractor portal
Reduced duplicate companies when importing – we will now de-duplicate companies that match exactly to ones already in your account's Companies list
Fixed a problem where the Library Import button would not appear properly
Fixed a problem with importing documents stored on Google Drive
Improved performance when exporting Tasks
Improved reliability of Issue List pushpin reports when pins were added to a multi-page PDF
Fixed a problem where recent reports would sometimes not run correctly
Fixed a problem where thumbnails on JPG files would not appear correctly in Library