December 21, 2015 – Available Now!
Raw Excel Reports
Raw Excel exports are now available in BIM 360 Field. We have taken 20+ of our most popular reports and added the capability to export the data in "raw" CSV or XLS format. What this means is you get a single header plus all your data in a format that can be fully manipulated in Excel for more granular analytics. You can now use standard Excel functions to filter, sort and group information as well as more advanced features such as pivot tables.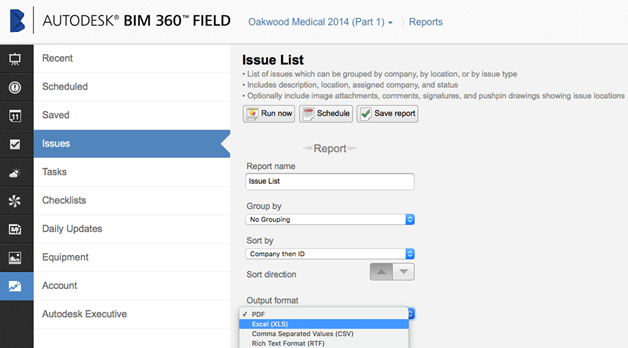 BIM 360 Field – Copy Project Settings
With this new release, Account Admins will be able to copy Field project settings as they create new projects in HQ (Enterprise Administration). This will streamline the process of copying custom fields, issue types and other project settings onto new projects. As you activate Field on a new project, you will have the option to select an existing project from which you would like to copy these settings. You can also choose to copy companies or locations to the new project.
Note:
To support customers who want to enforce the use of standard templates, Project Administrators will no longer have access to this feature from the Field Project Admin page.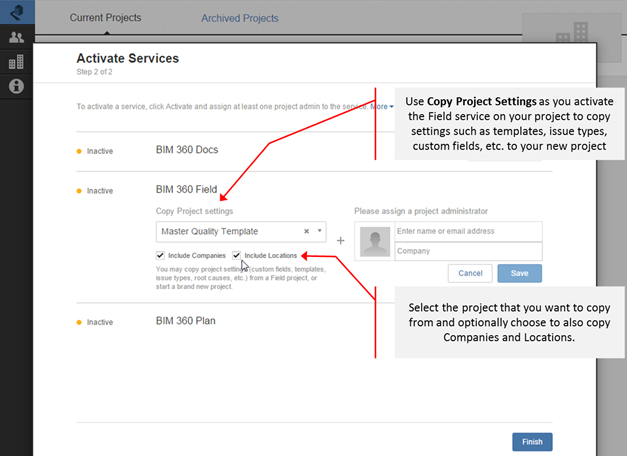 Coming Soon!
Here are some things we are working on that are currently being targeted for January 2016.
Field Mobile
BIM 360 Field for iPad version 4.11:
Attachments to Issues, Checklists, Tasks and Equipment will now be listed in chronological order
Sync performance improvements
Sync will prevent screen from locking
Fixed problem where some photos latitude was set to 0
Field Web
Issue, Checklist, Equipment and Task Role Filters in Reports
BIM 360 Field project admins can restrict, data visible to different users, by creating role filters for Issues, Checklists, Equipment and Tasks. Soon you will be able to use the same filters to restrict data that is visible in the reports!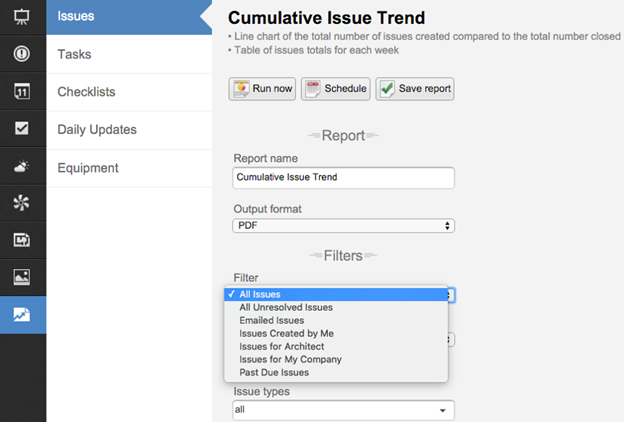 New Cross Project Reports
We are currently working on additional Issue and Checklist cross project reports in XLS format.
Project Activity Report
Improvements to Project Activity Report will provide additional information such as Issue and Checklist Counts by Type for each project.
Control iPad Photo quality/size at project level
Field for iPad users can already manage the photo quality on each device. Next, project administrators will be able to control iPad Photo quality settings at project level.
September 16, 2015
BIM 360 Field for iPad – version 4.9
A new version of BIM 360 Field for iPad is available in the App Store. This latest version includes the following: 

Sync Improvements
This release includes mobile sync stability and performance improvements. BIM 360 Field has observed close to a 30% sync time reduction on some of the largest customer projects. Additionally, the user experience has been enhanced with improved messaging to provide details on sync progress.
Photo Time Stamps
Project administrators now have the ability to place time stamp information whenever a photo is taken within Field mobile. In Field Web, go to Project Admin > Details > Place Timestamp on all photos taken in BIM 360 Field for iPad. Additionally, photo Taken At date and time information is now available for attachments.
Other improvements
Control Photo Quality within Field mobile iPad settings. Setting Photo Quality to medium or low, will greatly reduce file size and sync time while minimally affecting the actual image quality. Go to iPad Settings > BIM 360 Field > Photo Quality.
Photo Exchangeable image file format (Exif) information now contains Latitude and Longitude data whenever enabled in iPad settings.
List view feature further enhances the grouped pushpin functionality, allowing users to more easily interact with multiple pushpins when placed in close proximity on a floor plan.
August 19, 2015
BIM 360 Field Administration changes
The BIM 360 Field team is releasing updates to BIM 360 Field administration starting the week of August 17, 2015. These changes will be rolled out on a customer-by-customer basis and the team anticipates having all customers using the new administration system in the next few weeks.
Your account and project information will remain the same as before and field user workflows (issues, checklists, etc.) will be unaffected.
After your account is updated, you can access account settings from the Account Admin link and project settings from the Project Admin link.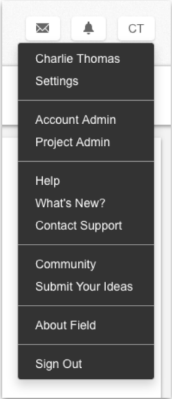 Account administration updates
Account administration has been completely redesigned. Now you can:
Manage your entire project portfolio in one place
Reuse companies and members from your account directory to assure consistency
Review companies' and members' participation for a project or across projects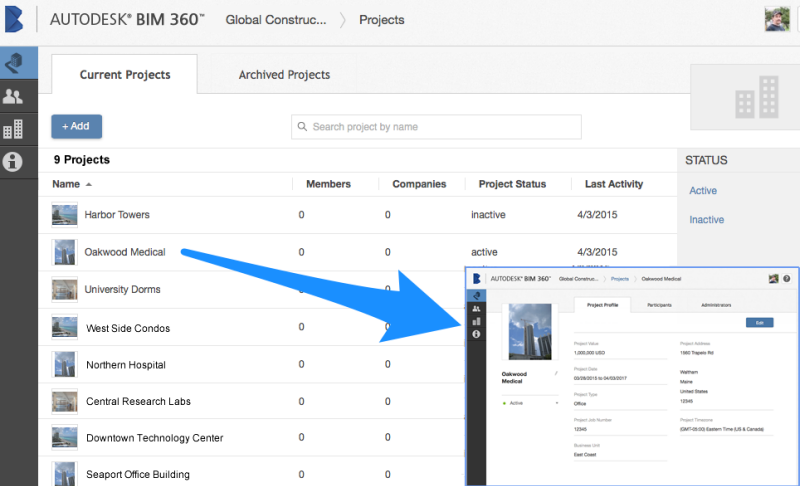 Project administration updates
Project administration has been updated with:
Streamlined, clear navigation consistent with the rest of BIM 360
Dedicated Companies, Members, and Permissions pages for quick access
Redesigned Project Details, Companies, and Members pages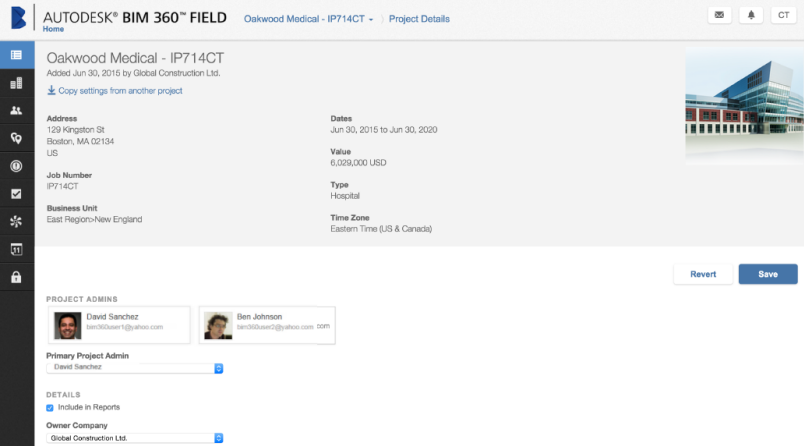 July 22, 2015
Daily Labor and Manpower Report
The latest version of BIM 360 Field delivers an enhancement to Daily Updates reporting. We've added a new Labor and Manpower over time report, which includes information such as Company, Workers, Total Hours and Company Activity that was recorded within the Daily Updates module.

Pushpin Grouping Support in BIM 360 Field Web and Mobile 4.8
The latest version of BIM 360 Field improves the user experience when working with a large number of pushpin issues in a document. Now you can easily group pushpins together when working with overlapping pushpins.
To enable pushpin grouping, in the lower left corner of the document viewer, click

Pushpin Grouping.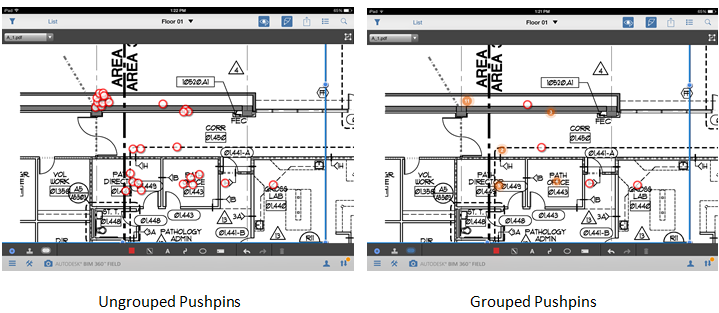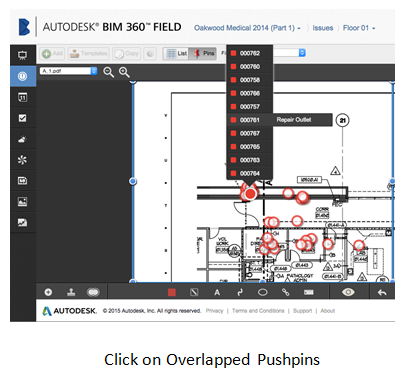 June 12, 2015
BIM 360 Field for iPad – version 4.8
A new version of BIM 360 Field for iPad will soon be available in the App Store. This latest version includes the following:
Introducing the "Map' feature for intuitive model navigation. In Models, select your level and location in a 2D Map view, then jump to a 3D view of that location.
Easy file-to-file navigation within the library.
Improved document link navigation so you can jump directly back to your starting point.
Subcontractors are no longer required to enter EIN or DUNS number when signing into Field.
2D Navigation is now available in the BIM 360 Field mobile app
The new Map feature allows all your field teams to have 2D access to all their models. In just seconds, field members can select the building level, tap a location in the new 2D Map view, and be sent directly to the location in the 3D model view.
Best of all, set up is as easy as 1-2-3 with any Revit or merged model containing a Revit model. Current Revit models shared with Field are ready to go!
GLUE it from Revit as NWC
MERGE it and include a Revit model
SHARE the Model with Field
ACCESS it on the iPad!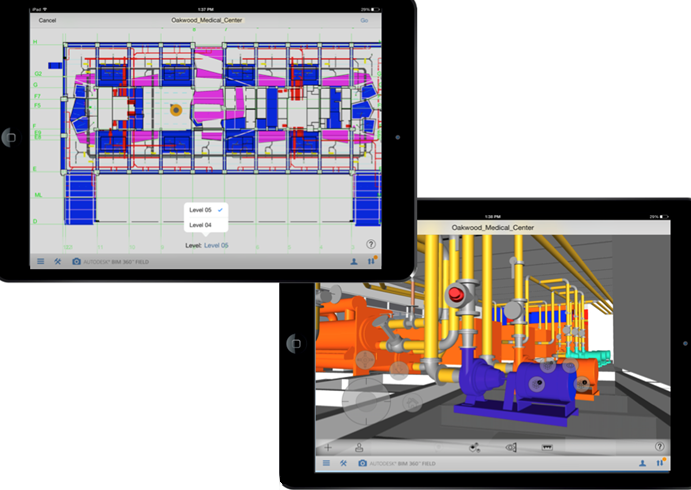 Easy file-to-file Navigation
Field already supports page navigation by allowing you to swipe between pages. Additionally, if your document packages are split up into sheets, you can now use the arrow keys next to the filename to jump to next or previous files.
Field Web
Improved Library performance and navigation. Navigate large numbers of files more efficiently with pagination. Additionally, you can now select the number of files visible per page.

Support added for downloading nested folders. Simply click a folder and select "Download" to download the folder and its contents.
Ability to print all marked up pages for attachment sub-reports.
Ability to print all marked up pages for attachments regardless of whether they are marked up or not.
Improved zoom control when viewing documents within the Markup tool.
April 12, 2015
Daily Updates Details Report
We've added the ability to report on Daily Updates authored by anyone on your project. Project members with reports access can run the Daily Updates Details report under Reports > Daily Updates. This report is similar to printing a single Daily Update, and you can run reports containing updates from multiple days, authors, or companies. You can also schedule the report to deliver itself by email on a recurring basis.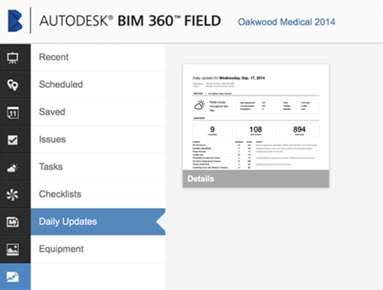 Other Improvements
For project admins, we've moved Permissions and Dashboards settings to their own Permissions link on the Setup navigation bar for quick access.
Reports formatting improvements and bug fixes.
Markup improvements and bug fixes.
April 7, 2015
BIM 360 Field for iPad – version 4.7
A new version of BIM 360 Field for iPad is available on the App Store. This latest version includes the following:
Daily Updates on iPad – Capture weather conditions, labor on-site, photographs and site notes on the go and automatically sync to Field for Web.
Uniform viewer/markup experience in Library, Pins View, and Attachments.
Follow embedded document links in Pins View.
Follow Field document links in attachments.
Various sync performance improvements.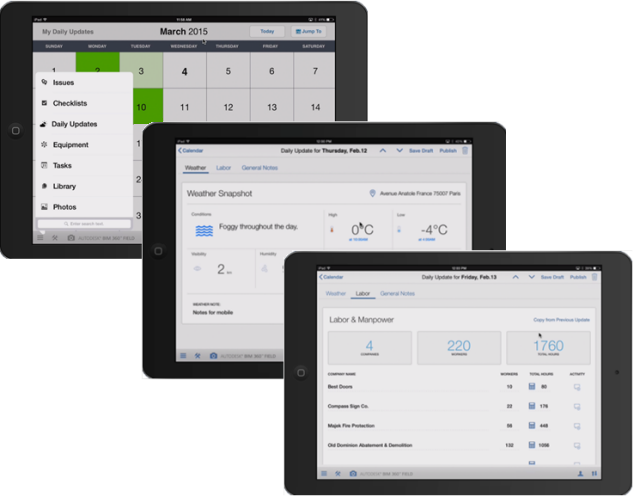 March 26, 2015
Streamlined page header design

Improved the updating of customizable reports with changes to custom fields
Bug fixes and other small improvements
March 10, 2015
Uniform Markup Experience across Field application
Uniform Markup experience is now available across the entire Field Application. You'll encounter a consistent set of markup tools and capabilities no matter where you are in Field – Attachments, Pushpins, or Library. Also, you can now create and navigate document links from within Attachments and Pushpins views. Previously, links were only available in the Library.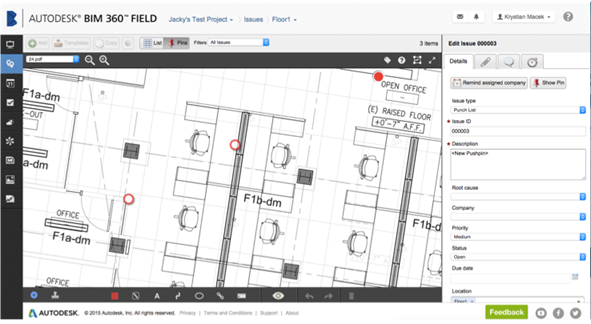 More Control over Markup Permissions
Project administrators now have control over which roles have ability to create Markup on Documents within the Library.

Reports Improvements
You can now save and schedule the Customizable Issue List by Location (Beta) and Equipment List (Beta) reports including your customized columns.
Column headers on the Customizable reports now wrap to show longer labels.
Signatures in all list and detail reports now appear in alphabetical order.
Daily Updates Weather now supports full addresses
For projects where the project administrator has not entered a project location, you can now enter the full address of any global location to retrieve weather for Daily Updates. Previously you could only enter the postal code of the project.

For projects where the project administrator is entering the project location in the project setup (more details tab), the weather will be retrieved using all the available information entered into the location info fields. Specifically it will look at the following location fields: Address line 1, Address line 2, City, State/Province, Postal Code and Country. The system previously only pulled the postal code field to gather the weather information. This offers a more precise weather station retrieval, which will gives you more accurate weather data.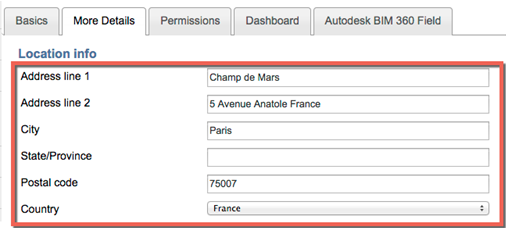 February 20, 2015
Daily Updates – Support for U.S. Customary and metric units
To support the entry of data across the globe, project administrators can choose what measurement units will be utilized on a project for Daily Updates. These settings can be enabled at an account level thereby pushing this setting to all existing projects or for new projects, or can be set at the individual project level. These settings determine the units that are displayed on the Daily Update.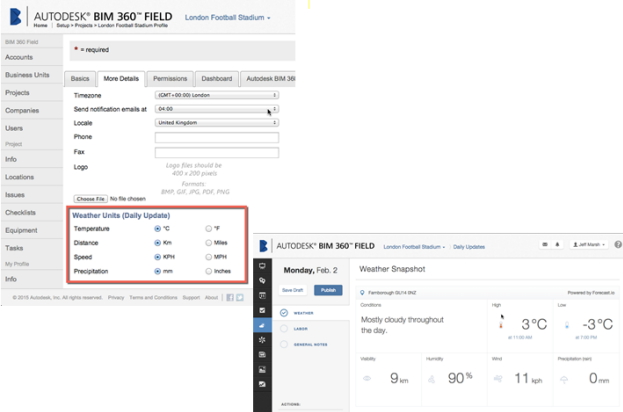 Daily Updates – Ability to import weather from world-wide locations
Previously the Daily Updates only supported U.S. postal code locations for weather information. Now users can import weather from any international weather location by simply entering the postal code in the project information area or entering it manually for those projects where the project postal code information is not entered.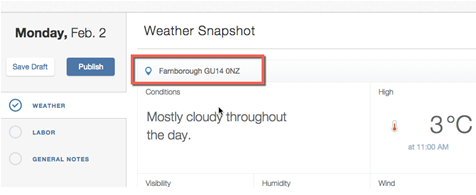 Daily Updates – Ability to delete labor rows when entering Labor & Manpower
You now have the ability to delete a single row or multiple rows when entering Labor & Manpower. To delete, select Edit List. Then, select the rows you want to delete and click Remove Selected.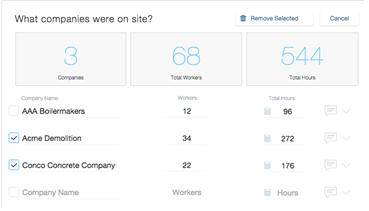 Data Improvements for Photos
We now show you the time a photo was taken (if available). The Library photo Taken At time stamp is available in:
Attachments to Issues, Tasks, Checklists, and Equipment
Photos
Library photo Detail View
New Version in Library
We have returned to our former behavior when using the Library's New Version button. If you upload a New Version to a library document, it will keep the name of the file you uploaded.
January 28, 2015
Document versions in Library
In the Project Library, document managers can now upload and manage versions of documents. When you upload files with matching names (within the same library folder) we'll automatically create a new version of that document (instead of simply replacing that document as we did previously).
This new version of the document keeps the same tags and location links as the older versions. In keeping with our previous behavior, the most recent document will appear in the library thumbnails, in Pushpins view, and on attachments from the Library to issues, tasks, checklists, and equipment. Any markup on attachments or Library will appear over the new version.
All users can browse thumbnails of previous versions and see when each version was uploaded (along with the document's tags and locations).
Document managers can remove versions by clicking the Delete icon next to the currently selected version.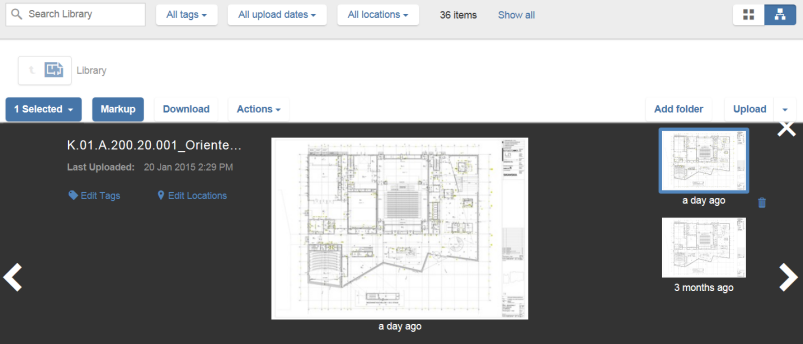 Daily Updates – Calculate Total Hours for Labor
Our new labor calculator will help you calculate the total hours for a company.
In Daily Updates, click the calculator icon, then enter the number of hours worked in the popup window and click Calculate. For example, each worker for the subcontractor worked 8 hours and there were 8 workers. Enter 8 and click Calculate to enter 64 in the Total Hours field.
Click the calculator icon to close the popup without recalculating.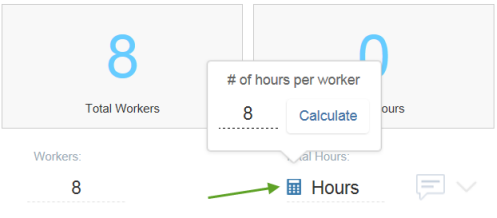 Daily Updates – Delete a Daily Update
You now have the ability to delete daily updates. To delete a Daily Update, select the date in the calendar. Then, under Actions, click the Delete icon and confirm the deletion.