Field Web
Issue, Checklist, Equipment and Task Role Filters in Reports for project admins
BIM 360 Field project admins already had the option restrict data visible to different users, by creating role filters for Issues, Checklists, Equipment and Tasks.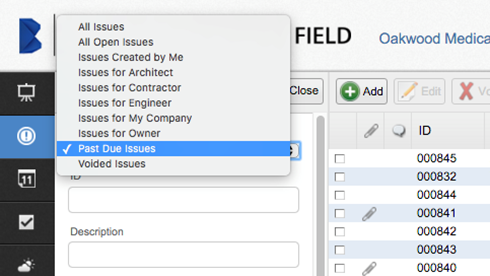 Back in March the same role filters were made available for standard Field roles, allowing project admins to restrict data that is visible in reports. This role specific functionality was made available for any user other than project or account admins. Project and account admins continued to have unrestricted access in all reports.
Many of you have asked to make the same filtering functionality available to project and account admins as it is very helpful in when applying role filters to restrict the data that is visible in the report. With this release, project and account admins will see a new Filter attribute in the report configuration, allowing them to leverage standard and custom role filters that have already been defined for Issues, Checklists, Tasks, and Equipment.
Image below selects a Filter = Issues Created by Me, meaning that any data in the report output will only show issues that I created.
As a reminder, to enable role filters for standard roles, go to Project Admin > Permissions > Enforce Role Filters in Reports.
Adding companies now allows for partial name matches
Prior to this improvement, project admins adding a new company to a project needed to enter the exact initial characters of the company they wanted to add. The new enhancement allows admins to enter substring of the company name resulting in partial matches.
Image below shows the new results when entering "mason" for a company name.