We're witnessing how a global health crisis can expose potential shortcomings in the readiness of infrastructure, manufacturing, and technology, and as design professionals we can't help but consider the impact of design on health. From products to buildings, it is increasingly evident how things that are designed and made can greatly affect our ability to live safe, healthy, and productive lives.
Several current and former resident teams from the Autodesk Technology Centers seek to answer how design-to-make technologies can improve our collective health, especially given limited resources. Whether delivering a customized product or developing a system to assemble, these teams focused on locally available resources and skills to provide sustainable solutions. Each team utilized digital design and fabrication tools to prototype and produce parts, products, systems, and even buildings—thus providing the opportunity of better for more people.
Hand Made Prosthetics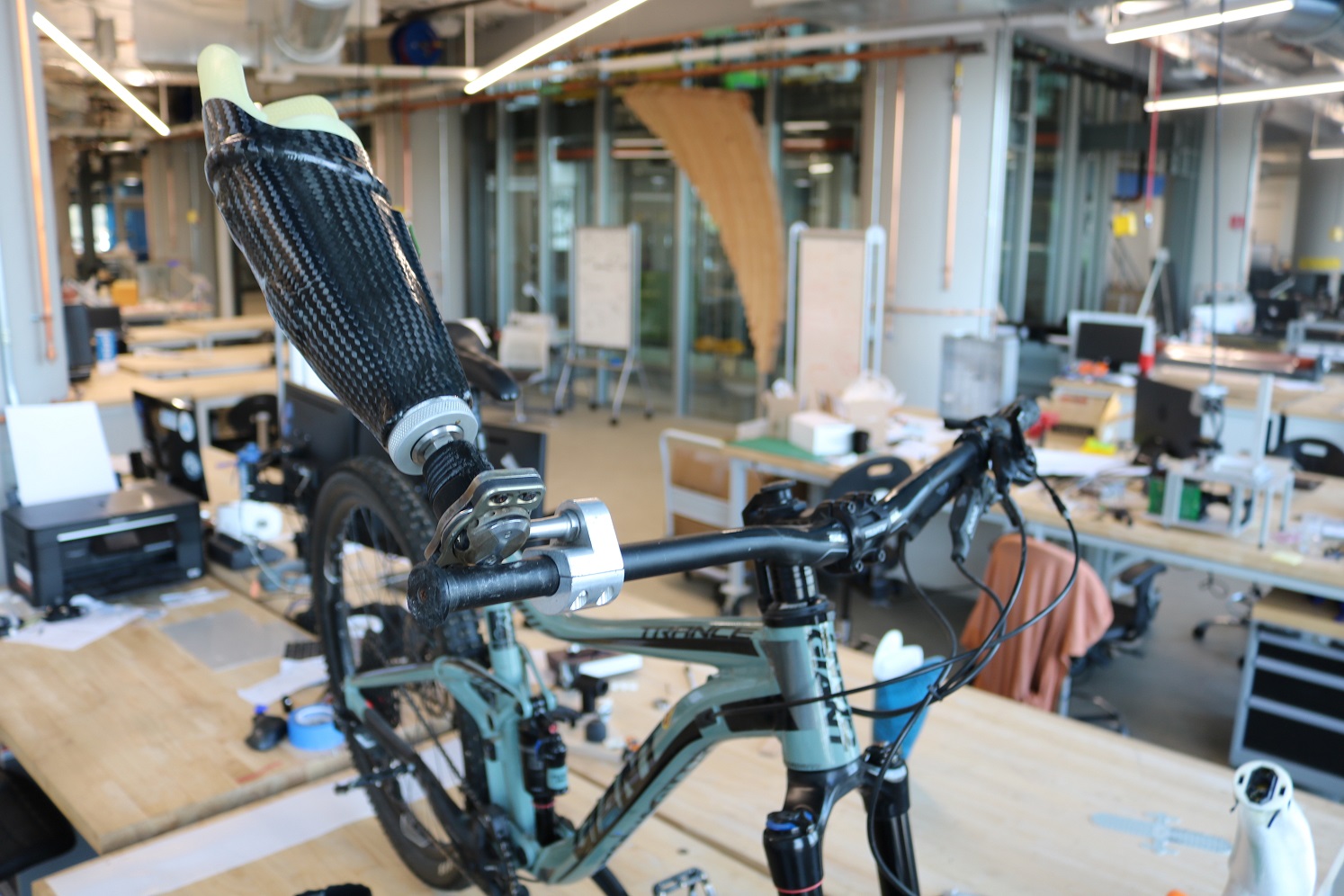 Focused on individual patients, Hand Made Prosthetics, led by veteran firefighter Braden Leonard, developed a way to produce custom prosthetics for those engaging in high-impact activities from mountain biking to surfing to construction. At the time, there wasn't anything ergonomic, lightweight, or strong enough to meet these specific needs available on the market. To address this, the team utilized 3D scanning technology to design custom devices made of carbon fiber as well as bespoke machined and printed fittings specifically made for the complex movements and forces required. Leveraging digital design and fabrication technologies, Hand Made Prosthetics developed new ways of making custom prosthetics more affordable and accessible.
Little Sparrows Technologies
Little Sparrows Technologies, with support from the Autodesk Foundation's Pro Bono Consulting, sought to develop new and accessible products that address systemic issues related to infant mortality. Through the development of the Bili-hut, a lightweight phototherapy unit for premature babies, they created a solution for treating jaundice in communities with limited healthcare resources. During their residency, the team also developed custom industrial robotic tooling for future testing to ensure devices could withstand the stress of repetitive use in the field.
Design that Matters
Design that Matters also focused their work as residents of the technology centers on infant mortality. Aimed at addressing the preventable illnesses and estimated 2 million annual deaths related to newborn hypothermia, this non-profit and former Autodesk Foundation grantee developed the Otter Newborn Warmer. Focusing on what was problematic in existing solutions available to under-resourced areas, the team designed a conductive warmer that is simple to sterilize and maintain, that can operate on its own, or complement their existing Firefly phototherapy device already deployed in 26 countries.
The Okoa Project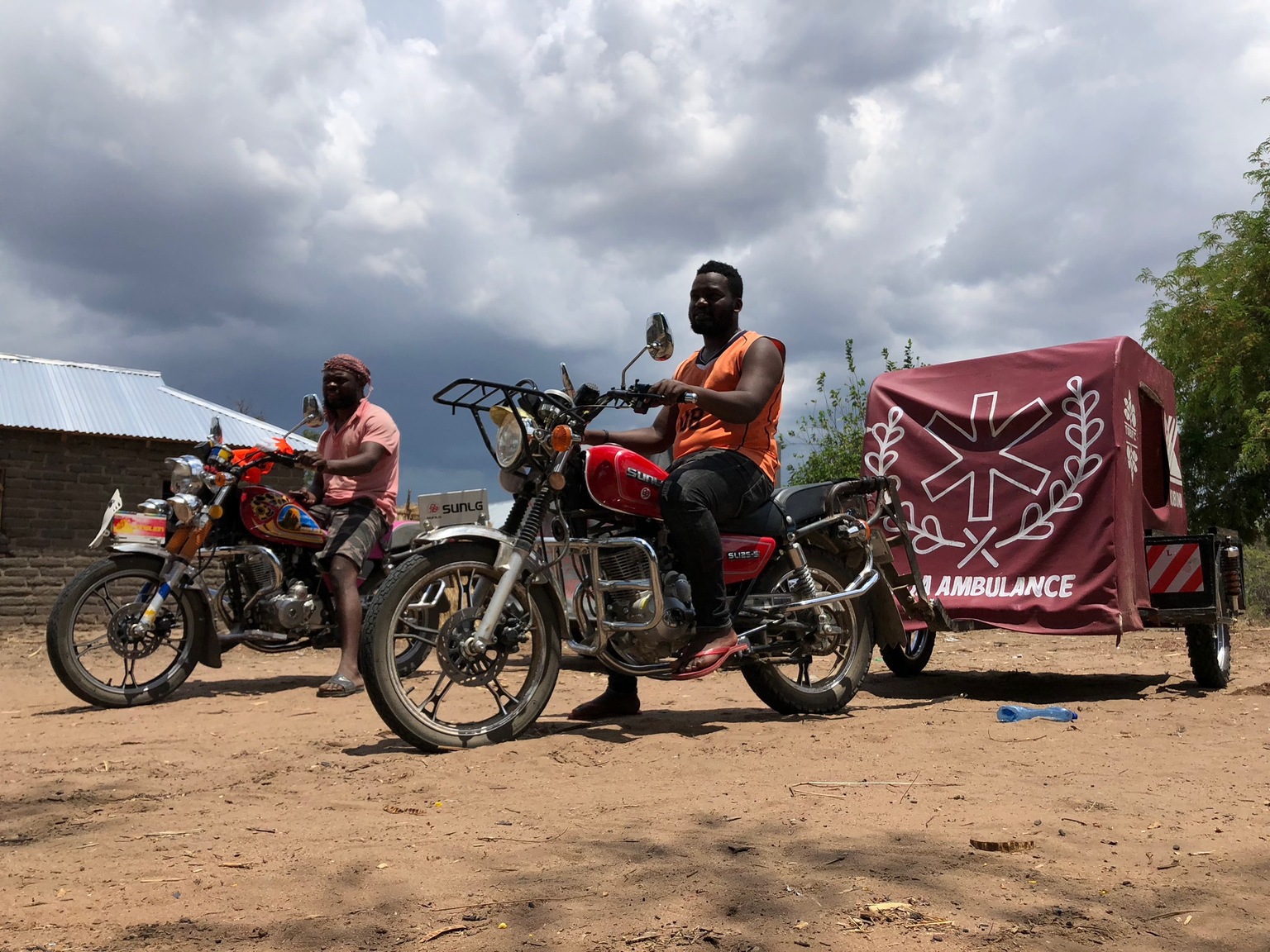 Rural communities in developing countries often lack safe and reliable access to medical care. As software donation recipients from the Autodesk Technology Impact Program, The Okoa Project worked with communities in Tanzania to develop ambulatory motorcycle trailers accounting for not only the patient and difficult roadways, but the need for localized manufacturing and maintenance. By leveraging local resources and metal shops, they optimized the design for accessible materials and fabrication tools. The processes they explored during their residency also enabled the team to pivot their efforts toward deployable handwashing stations in Ghana to help prevent the spread of Covid-19 in communities without running water. They supplied a network of local fabricators with the materials to build over 600 handwashing stations that were distributed to 62 communities.
Center for Design Research at Virginia Tech + Howick Construction
In response to the need for over 1,000 distributed healthcare clinics in rural Uganda and Zambia, the Center for Design Research (CDR) at Virginia Tech collaborated with Strucsoft Solutions and technology centers residents Howick Construction to re-design a community clinic built specifically for infection control. Using automated tooling, each facility had four isolated wings organized around a central exterior triage and waiting area. The initial design was constructed in Entebbe, Uganda, using local materials. A proof of concept was subsequently constructed by a team from KHS&S Contractors and Howick at Autodesk University. They used Howick's automated framing system to demonstrate that the primary structure could be produced from raw material stock and fully assembled in one day compared to several months using traditional construction methods. The CDR team also collaborated with the non-profit Make it Rain in Zambia, Uganda, and Liberia to build additional clinics using this automated framing technology, and the Ministry of Health in Zambia utilized a similar system to construct multiple mini-hospitals as well.
Build Health International
Build Health International (BHI), collaborated with The Living, a first of-its-kind Autodesk Studio, to improve building design for medical facilities. They explored how the use of new applications of existing technologies like laser scanning and automated framing systems could increase output while keeping local environmental and community concerns at the foreground. The resident team leveraged the technology centers as well as support from the Foundation's Pro Bono Consulting to test their design-for-assembly process and different methods of production. Additionally, as a direct response to the global health crisis, BHI released an open source manual to support low-skilled laborers and provide design and construction guidelines for Covid-19 treatment centers. By developing program layouts for infectious disease control, the team helped fast track the construction of these medical clinics in resource-constrained communities.
Across disciplines and at different scales, we continue to see organizations focused on creating better outcomes by utilizing digital design and fabrication technologies in the response to both immediate and long-term needs. Whether creating new tools, optimizing design for local fabrication, or sharing new ways of making throughout the world, the work represented here is impacting the way communities improve their access to health. We invite teams to join our residency to continue to challenge how to make a positive impact and expand the diversity of solutions to problems across the world.